Month:
April 2018
23 April is World Book Day, so Bree and I thought we would take a moment to share some of our favorite books from different genres than we normally share! Read the rest of this entry »
By Jacob P. Torres
Any day is a good day to start a new book, but if you're looking for something appropriate to start on Earth Day, here are five recommendations you might enjoy.
The Fifth Season by N.K. Jemisin
For everything else in this book that is utterly and mind-bendingly magnificent, from the characters to the magic to excellently built world, Jemisin's first book in her Broken Earth series is also a story of surviving ecological disasters and tangentially why the moon is important to all life on Earth. If you haven't already read this book you may have been living under a rock. 5 out of 5 Cups of Tea.
The Terror by Dan Simmons
 
If you're looking for a different kind of chilling, I'd recommend Simmons' The Terror. Simmons takes the real-life disappearance of the HMS Erebus and HMS Terror in their attempt to find a Northwest passage in the mid-1800s and rewrites it as a gripping horror novel as the survivors of the expedition have to fight to survive each other, mythic monsters, and the harsh, unforgiving terrain of the arctic circle. Be warned that while the setting is frigid, the book itself is a real slow burn. 4 out of 5 Cups of Tea.
 
Clade by James Bradley
Clade is a look at how quickly everything can get out of control, how climate change isn't just one day oceans will be a lot higher but it's hundreds of connected smaller disasters that quickly turn everything to ruin. The personal drama that takes the center of this story feels genuine and raw. The ecological tragedies in the background, a hauntingly realistic picture of what could come. 4 out of 5 Cups of Tea.
Seveneves by Neal Stephenson
 
Stephenson creates a very different picture of what would happen if the moon went away. Hint: absolutely nothing good. While the science fiction and the character drama demands most of your attention, Stephenson does an excellent job of illustrating just how complicated, and damn near impossible to live anywhere but earth it would be for humans. 4.5 out of 5 Cups of Tea.
 
The Drunken Botanist by Amy Stewart
I realized that an underlying theme to these was "oh, look, the earth is proper fucked," and thought I should put a nice, uplifting non-fiction book on this list. Stewart's book covers the plants and processes that make the alcohols and additives we use for drinks. Her love of both booze and botany shines through in this book and the stories about how the plants became the key ingredients to the drinks we love will remind you of the importance of biodiversity and exploring the natural world. 5 out of 5 Cups of Tea.
By Jacob P. Torres
Find my spoiler-free review of Tomorrow's Kin by Nancy Kress, Book One of the Yesterday's Kin Trilogy.
Cover Description: "Tomorrow's Kin is the first volume in and all new hard science fiction trilogy by Nancy Kress based on the Nebula Award-winning Yesterday's Kin.
Locus 2017 Recommended Reading List
The aliens have arrived… they've landed their Embassy ship on a platform in New York Harbor, and will only speak with the United Nations. They say that their world is so different from Earth, in terms of gravity and atmosphere, that they cannot leave their ship. The population of Earth has erupted in fear and speculation.
One day Dr. Marianne Jenner, an obscure scientist working with the human genome, receives an invitation that she cannot refuse. The Secret Service arrives at her college to escort her to New York, for she has been invited, along with the Secretary General of the UN and a few other ambassadors, to visit the alien Embassy.
The truth is about to be revealed. Earth's most elite scientists have ten months to prevent a disaster—and not everyone is willing to wait."
By Jacob P. Torres
Find my spoiler-free review of Grey Sister by Mark Lawrence, Book 2 of his Book of the Ancestor Series.
Cover Description: "The second novel in a brilliant fantasy series from the international bestselling author of Prince of Thorns.
Behind its walls, the Convent of Sweet Mercy has trained young girls to hone their skills for centuries. In Mystic Class, Novice Nona Grey has begun to learn the secrets of the universe. But so often even the deepest truths just make our choices harder. Before she leaves the convent, Nona must choose which order to dedicate herself to—and whether her path will lead to a life of prayer and service or one of the blade and the fist.
All that stands between her and these choices are the pride of a thwarted assassin, the designs of a would-be empress wielding the Inquisition like a knife, and the vengeance of the empire's richest lord.
As the world narrows around her, and her enemies attack her through the system she is sworn to, Nona must find her own path despite the competing pulls of friendship, revenge, ambition, and loyalty.
And in all this only one thing is certain: there will be blood."
By Brianne Reeves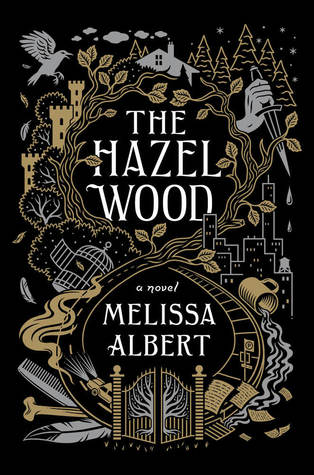 Elevator Pitches:
| | |
| --- | --- |
| Weave a Circle Round by Kari Maaren | The Hazel Wood by Melissa Albert |
| When Freddy gets new next-door neighbors who are loud, obnoxious, and maybe a bit magical, she and her siblings are sent on a wild adventure to keep the balance between chaos and order in the universe. Their adventures span time and space and leave them tampering with the gods and with the nature of reality itself. | Alice's grandma was a cult classics story writer swathed in mystery. But Alice and her mother never talked about her. They only knew they were very, very unlucky. After Alice's mother disappears, Alice is set on a wild adventure leading back to her grandmother's estate, the Hazel Wood. Her past is inescapable and things are more fairytale-like by the minute. |
Highlights:
Weave a Circle Round: The best part of this story is the way it captures family conflict and its use of circular and parallel story structures. Freddy's adventures have eerie echoes of one another that eventually lead to some interesting conclusions. Maaren uses these echoes to engage Freddy with her own problem-solving skills and sense of strength. It's through that growth that Freddy can embrace her family and resolve the conflicts between chaos and order.
The Hazel Wood: The Hazel Wood has some wonderfully dark fairytale moments. Albert is clearly going for more of a Grimm's fairytale world than a Disney princess world and has some moments where she truly succeeds. Alice's story embraces a kind of occult wild goose chase that I found incredibly appealing. Bonus points: the romance subplot is not actually a romance subplot.
Downfalls:
Weave a Circle Round: Weave a Circle Round would have benefitted from some clearer plot. Its circular elements have very high points, but also can serve to distract from what Maaren is really getting at with some of her themes. They can be confusing and occasionally leave the reader with a sense of having missed something.
The Hazel Wood: Alice needed more character development. She doesn't really try to understand others around her and gets very angry, which has its place, but Albert doesn't really use that to its best advantage. Additionally, some of the occult and mystery elements waiver in the first half of the book.
If you must read one… I'd probably say read The Hazel Wood, but with the caveat that younger audiences will enjoy Weave a Circle Round more. The Hazel Wood is very interesting YA, but Weave a Circle Round is more approachable and traditional adventure fantasy. Personally, I enjoyed the darkness in The Hazel Wood more, even if it could have used some work.
I'd probably say read The Hazel Wood, but with the caveat that younger audiences will enjoy Weave a Circle Round more. The Hazel Wood is very interesting YA, but Weave a Circle Round is more approachable and traditional adventure fantasy. Personally, I enjoyed the darkness in The Hazel Wood more, even if it could have used some work.
By Jacob P. Torres
Find my spoiler-free review of The Reluctant Queen, Sarah Beth Durst's sequel to  her 2016 The Queen of Blood.
Cover Description: "In The Queen of Blood, Daleina used her strength and skill to survive the malevolent nature spirits of Renthia and claim the crown. But now she is hiding a terrible secret: she is dying. If she leaves the world before a new heir is ready, the spirits that inhabit her realm will once again run wild, destroying her cities and slaughtering her people.
Naelin has the power necessary to become an heir, but she couldn't be further removed from the Queen. Her world is her two children, her husband, and her remote village tucked deep in the forest. But when Ven, the Queen's champion, passes through her village, Naelin's ambitious husband tells him of his wife's ability to control spirits—magic that Naelin fervently denies. She knows embracing her power will bring death and separation from those she loves."
By Jacob P. Torres
I'm re-reading Yoon Ha Lee's Machineries of Empire novels before I read and review my ARC of his third novel, Revenant Gun. Spoilers abound in this review of the Raven Stratagem by Yoon Ha Lee, Book 2 of the Machineries of Empire Trilogy. Raven Stratagem was nominated for a 2018 Hugo Award. Also check out my review of the first book.
Cover Description: "Captain Kel Cheris is possessed by a long-dead traitor general. Together they must face the rivalries of the hexarchate and a potentially devastating invasion.
When the hexarchate's gifted young captain Kel Cheris summoned the ghost of the long-dead General Shuos Jedao to help her put down a rebellion, she didn't reckon on his breaking free of centuries of imprisonment – and possessing her.
Even worse, the enemy Hafn are invading, and Jedao takes over General Kel Khiruev's fleet, which was tasked with stopping them. Only one of Khiruev's subordinates, Lieutenant Colonel Kel Brezan, seems to be able to resist the influence of the brilliant but psychotic Jedao.
Jedao claims to be interested in defending the hexarchate, but can Khiruev or Brezan trust him? For that matter, will the hexarchate's masters wipe out the entire fleet to destroy the rogue general?"