Fantasy
By Jacob P. Torres
Find my spoiler-free review of Starless by Jacqueline Carey below.
Cover Description: "Jacqueline Carey is back with an amazing adventure not seen since her New York Times bestselling Kushiel's Legacy series. Lush and sensual, Starless introduces us to an epic world where exiled gods live among us, and a hero whose journey will resonate long after the last page is turned.
I was nine years old the first time I tried to kill a man…
Destined from birth to serve as protector of the princess Zariya, Khai is trained in the arts of killing and stealth by a warrior sect in the deep desert; yet there is one profound truth that has been withheld from him.
In the court of the Sun-Blessed, Khai must learn to navigate deadly intrigue and his own conflicted identity…but in the far reaches of the western seas, the dark god Miasmus is rising, intent on nothing less than wholesale destruction.
If Khai is to keep his soul's twin Zariya alive, their only hope lies with an unlikely crew of prophecy-seekers on a journey that will take them farther beneath the starless skies than anyone can imagine."
By Jacob P. Torres
Find my review of Scourged by Kevin Hearne. Fair warning there are some spoilers, I've done my best to flag them and give you warning if you want to skip them, but they are there so if you want to avoid them entirely, you should maybe skip this review. Though it's been a few weeks since this book's release, what have you been doing that you're just getting to this now?
Cover Description: "Kevin Hearne creates the ultimate Atticus O'Sullivan adventure in the grand finale of the New York Times bestselling Iron Druid Chronicles: an epic battle royale against the Norse gods of Asgard.
 Unchained from fate, the Norse gods Loki and Hel are ready to unleash Ragnarok, a.k.a. the Apocalypse, upon the earth. They've made allies on the darker side of many pantheons, and there's a globe-spanning battle brewing that ancient Druid Atticus O'Sullivan will be hard-pressed to survive, much less win.   
Granuaile MacTiernan must join immortals Sun Wukong and Erlang Shen in a fight against the Yama Kings in Taiwan, but she discovers that the stakes are much higher than she thought.
Meanwhile, Archdruid Owen Kennedy must put out both literal and metaphorical fires from Bavaria to Peru to keep the world safe for his apprentices and the future of Druidry.
And Atticus recruits the aid of a tyromancer, an Indian witch, and a trickster god in hopes that they'll give him just enough leverage to both save Gaia and see another sunrise. There is a hound named Oberon who deserves a snack, after all."
By Jacob P. Torres
Find my spoiler-free review of The Poppy War by R.F. Kuang.
Cover Description: "When Rin aced the Keju—the Empire-wide test to find the most talented youth to learn at the Academies—it was a shock to everyone: to the test officials, who couldn't believe a war orphan from Rooster Province could pass without cheating; to Rin's guardians, who believed they'd finally be able to marry her off and further their criminal enterprise; and to Rin herself, who realized she was finally free of the servitude and despair that had made up her daily existence. That she got into Sinegard—the most elite military school in Nikan—was even more surprising.
But surprises aren't always good.
Because being a dark-skinned peasant girl from the south is not an easy thing at Sinegard. Targeted from the outset by rival classmates for her color, poverty, and gender, Rin discovers she possesses a lethal, unearthly power—an aptitude for the nearly-mythical art of shamanism. Exploring the depths of her gift with the help of a seemingly insane teacher and psychoactive substances, Rin learns that gods long thought dead are very much alive—and that mastering control over those powers could mean more than just surviving school.
For while the Nikara Empire is at peace, the Federation of Mugen still lurks across a narrow sea. The militarily advanced Federation occupied Nikan for decades after the First Poppy War, and only barely lost the continent in the Second. And while most of the people are complacent to go about their lives, a few are aware that a Third Poppy War is just a spark away . . .
Rin's shamanic powers may be the only way to save her people. But as she finds out more about the god that has chosen her, the vengeful Phoenix, she fears that winning the war may cost her humanity . . . and that it may already be too late."
By Brianne Reeves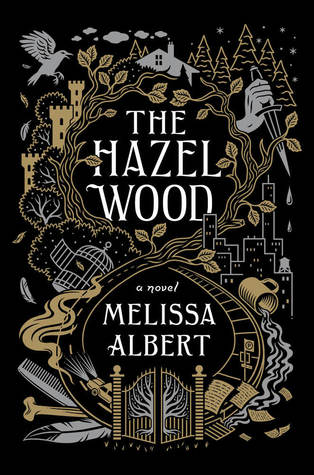 Elevator Pitches:
| | |
| --- | --- |
| Weave a Circle Round by Kari Maaren | The Hazel Wood by Melissa Albert |
| When Freddy gets new next-door neighbors who are loud, obnoxious, and maybe a bit magical, she and her siblings are sent on a wild adventure to keep the balance between chaos and order in the universe. Their adventures span time and space and leave them tampering with the gods and with the nature of reality itself. | Alice's grandma was a cult classics story writer swathed in mystery. But Alice and her mother never talked about her. They only knew they were very, very unlucky. After Alice's mother disappears, Alice is set on a wild adventure leading back to her grandmother's estate, the Hazel Wood. Her past is inescapable and things are more fairytale-like by the minute. |
Highlights:
Weave a Circle Round: The best part of this story is the way it captures family conflict and its use of circular and parallel story structures. Freddy's adventures have eerie echoes of one another that eventually lead to some interesting conclusions. Maaren uses these echoes to engage Freddy with her own problem-solving skills and sense of strength. It's through that growth that Freddy can embrace her family and resolve the conflicts between chaos and order.
The Hazel Wood: The Hazel Wood has some wonderfully dark fairytale moments. Albert is clearly going for more of a Grimm's fairytale world than a Disney princess world and has some moments where she truly succeeds. Alice's story embraces a kind of occult wild goose chase that I found incredibly appealing. Bonus points: the romance subplot is not actually a romance subplot.
Downfalls:
Weave a Circle Round: Weave a Circle Round would have benefitted from some clearer plot. Its circular elements have very high points, but also can serve to distract from what Maaren is really getting at with some of her themes. They can be confusing and occasionally leave the reader with a sense of having missed something.
The Hazel Wood: Alice needed more character development. She doesn't really try to understand others around her and gets very angry, which has its place, but Albert doesn't really use that to its best advantage. Additionally, some of the occult and mystery elements waiver in the first half of the book.
If you must read one… I'd probably say read The Hazel Wood, but with the caveat that younger audiences will enjoy Weave a Circle Round more. The Hazel Wood is very interesting YA, but Weave a Circle Round is more approachable and traditional adventure fantasy. Personally, I enjoyed the darkness in The Hazel Wood more, even if it could have used some work.
I'd probably say read The Hazel Wood, but with the caveat that younger audiences will enjoy Weave a Circle Round more. The Hazel Wood is very interesting YA, but Weave a Circle Round is more approachable and traditional adventure fantasy. Personally, I enjoyed the darkness in The Hazel Wood more, even if it could have used some work.
By Jacob P. Torres
Find my spoiler-free review of The Reluctant Queen, Sarah Beth Durst's sequel to  her 2016 The Queen of Blood.
Cover Description: "In The Queen of Blood, Daleina used her strength and skill to survive the malevolent nature spirits of Renthia and claim the crown. But now she is hiding a terrible secret: she is dying. If she leaves the world before a new heir is ready, the spirits that inhabit her realm will once again run wild, destroying her cities and slaughtering her people.
Naelin has the power necessary to become an heir, but she couldn't be further removed from the Queen. Her world is her two children, her husband, and her remote village tucked deep in the forest. But when Ven, the Queen's champion, passes through her village, Naelin's ambitious husband tells him of his wife's ability to control spirits—magic that Naelin fervently denies. She knows embracing her power will bring death and separation from those she loves."
One of our favorite things at LTB is talking about books. On occasion, we do that face-to-face. If you missed it last week, you can still watch and participate with us while we talk about Children of Blood and Bone by Tomi Adeyemi. We're talking character development, story development, grand themes of family and community, and of course TEA! Feel free to comment below with your thoughts on the book so you can join in on our discussions!