Fantasy
Well, I know it makes me naive and ignores a lot of fandom's history, but damn if I don't want it to be a haven. Science fiction and fantasy espouses some of what is best in humanity, and so I always hope that the people who love it will continue to espouse acceptance, love, and hope as well.
And so I made the best of the puppies.
And I forgave people who were internet jerks.
And people just keep giving me more and more strife.
Probably you've heard by now that there's another dumpster fire in science fiction fandom. I wish this were less surprising.
TL;DR – Nothing that has come to light is great. I'm going to work to make it better. Here's a plan, albeit limited by time, space and assistance.
https://giphy.com/embed/1wXeLxuTVBZe0Ht7Zu
I turned off my phone to sleep, and I woke up to news that the WorldCon 76 team had:
Changed a person's gender neutral pronoun bio to using the wrong pronouns
Not put new Hugo finalists, largely persons of color and younger authors onto panels
Sent dress codes to some individuals but not others "asking" that they dress professionally
Because, hey, it's 2018 and why not?
I get it.
Conference running is really tough. Like on a scale of 1-10, probably an 8 or 9. I know; I've helped host thousands of people for academic events. Even in a place where you're not coordinating dozens of panels and participants on top of booths, celebrities, vendors, and guests, you're doing a lot of work.
But that doesn't excuse shitty behavior
https://giphy.com/embed/wYyTHMm50f4Dm
So, let's talk about this.
Shitty thing #1 – Screwing with bios and using personal pictures on programming
Well, this is easily one of the things that makes me the most mad. Program creators requested bios and photos from authors and other hugo-nominees and panel participants. +1 for having people explain themselves. Except they didn't.
Bios were edited, including switching someone's gender pronouns.
People's professional pictures were skipped and personal facebook pictures (listed on private accounts) were used instead.
I cannot even fathom why this was considered ok.
Guess what, if you ask for a bio, as long as it isn't wildly unprofessional or lewd, you should stick with that bio. In particular, you should NEVER change someone's own pronouns. If someone tells you their pronouns, you accept those pronouns and move on. You aren't the arbiter of pronouns and I promise you don't know someone's gender better than that person knows their own.
I would very much appreciate a public apology from @worldcon2018 for rewriting my bio to change my name and my gender.

I have never, ever used "he" pronouns.

After many similar exclusionary actions, this is the last straw, I am honestly not sure I can safely attend. pic.twitter.com/agazsY1rmV

— Bogi Takács PERSON, 100% migráncs (@bogiperson) July 23, 2018
Using someone's personal photos rather than a supplied professional one is a weird and invasive combination of ignoring privacy and not presenting your organization professionally. Just…What?
Shitty Thing #2 – Dress Codes
Rather than going on and on about this. I'll just say, sending dress codes to some but not others isn't ok. Hugo award nominees have enough on their plates, if a sparkly unicorn dress is their preference, it's their damn night. Do what you will. I don't care if someone is a man in a kilt, a woman in a miniskirt, or someone in a gender non-conforming outfit you don't think is "pulling it off." The nature of dress codes, in particular those espousing professionalism are both sexist and classist. I'm not here for that and I'm not here for it not being universally applied.
For a much more intricate look at the relationship between sexism and dress codes, here's a fantastic piece by Everyday Feminism.
And this series of tweets shows a lot more at stake than who wears what type of heels.
Hi. My name is Elsa Sjunneson-Henry. I'm the managing editor of the Hugo Finalist magazine, @FiresideFiction, and last week when we all got angry about dress codes, I also got worried.

Why?

Because the email about dress codes ALSO talked about access needs at the ceremony.

— Elsa Sjunneson-Henry, Fancy Cyclops (@snarkbat) July 23, 2018
Shitty Thing #3 – Not Including Members On Panels Because They Aren't "Popular" or "Well-Known" Enough
https://giphy.com/embed/96jP5ZSpYxtwQ
Hugo nominees, in particular many of the younger nominees and those who have diverse backgrounds weren't put on panels. Some of them have been receiving emails saying that they aren't well-known enough to be placed on them.
This is ridiculous on two fronts:
1- Hugo nominees are definitionally well-known. To be nominated, you MUST have a not inconsequential presence and respect within science fiction and fantasy. PLUS, in theory at least, over the last five or so months, people have been reading those works and watching those movies and looking at that fan art. They have been a highlight in the community.
2- There is no way to make our fandom last without incorporating new voices. New voices are important to science fiction and fantasy. Without them, there will be no growth, and, frankly, growth is exactly what SFF needs.
At the very least, I'm glad I'm not living in a world limited to Heinlein and LeGuin. I want innovation and new perspectives, because this genre set needs that to maintain its lifeblood. And I want SFF to be around for a long, long time.
Fine, Bree, But What Are You Doing About It?
Right now, I'm talking to folks about setting up some outtings in San Jose. I understand this isn't the same as at-con participation, but at the very least we can be a community that accepts one another. I'll be working to get us accessible transit and will announce any outing plans soon, both here and on YouTube.
I'm bringing a fuck ton of pronoun stickers. I want to normalize inclusivity. The only way to do that is to make people realize that their world doesn't have the rigid limits they think ought to be there and to call folks out on their incivility. If you show up at WorldCon, hunt me down. You can have a pronoun sticker for your badge.
I'll be wandering with my Instagram stories going on throughout WorldCon. I want to talk to people about their favorite works, especially those that are debuts, new to you authors, #ownvoices, and that feature intersectionality. I'll be posting frequently throughout the week.
Other things. Right now I'm open to suggestions. I want to help build community in places where community should be. Let me know your thoughts about what events or other activities you think should take place. Tweet me, comment, plaster my insta and YouTube with suggestions. Let's make it happen.
Featured image photo credit: Facepalm Glax by Mattia Basaglia © 2017-2018 CC BY-SA
Cover Description: "Jane McKeene was born two days before the dead began to walk the battlefields of Gettysburg, Pennsylvania—derailing the War Between the States and changing the nation forever.
In this new America, safety for all depends on the work of a few, and laws like the Native and Negro Education Act require certain children attend combat schools to learn to put down the dead.
But there are also opportunities—and Jane is studying to become an Attendant, trained in both weaponry and etiquette to protect the well-to-do. It's a chance for a better life for Negro girls like Jane. After all, not even being the daughter of a wealthy white Southern woman could save her from society's expectations.
But that's not a life Jane wants. Almost finished with her education at Miss Preston's School of Combat in Baltimore, Jane is set on returning to her Kentucky home and doesn't pay much mind to the politics of the eastern cities, with their talk of returning America to the glory of its days before the dead rose.
But when families around Baltimore County begin to go missing, Jane is caught in the middle of a conspiracy, one that finds her in a desperate fight for her life against some powerful enemies.
And the restless dead, it would seem, are the least of her problems."
By Jacob P. Torres
Find my spoiler-free review of Alex White's, A Big Ship at the Edge of the Universe.
Cover Description: "Boots Elsworth was a famous treasure hunter in another life, but now she's washed up. She makes her meager living faking salvage legends and selling them to the highest bidder, but this time she got something real–the story of the Harrow, a famous warship, capable of untold destruction.
Nilah Brio is the top driver in the Pan Galactic Racing Federation and the darling of the racing world–until she witnesses Mother murder a fellow racer. Framed for the murder and on the hunt to clear her name, Nilah has only one lead: the killer also hunts Boots.
On the wrong side of the law, the two women board a smuggler's ship that will take them on a quest for fame, for riches, and for justice."
By Jacob P. Torres
Find my spoiler-free review of Starless by Jacqueline Carey below.
Cover Description: "Jacqueline Carey is back with an amazing adventure not seen since her New York Times bestselling Kushiel's Legacy series. Lush and sensual, Starless introduces us to an epic world where exiled gods live among us, and a hero whose journey will resonate long after the last page is turned.
I was nine years old the first time I tried to kill a man…
Destined from birth to serve as protector of the princess Zariya, Khai is trained in the arts of killing and stealth by a warrior sect in the deep desert; yet there is one profound truth that has been withheld from him.
In the court of the Sun-Blessed, Khai must learn to navigate deadly intrigue and his own conflicted identity…but in the far reaches of the western seas, the dark god Miasmus is rising, intent on nothing less than wholesale destruction.
If Khai is to keep his soul's twin Zariya alive, their only hope lies with an unlikely crew of prophecy-seekers on a journey that will take them farther beneath the starless skies than anyone can imagine."
By Jacob P. Torres
Find my review of Scourged by Kevin Hearne. Fair warning there are some spoilers, I've done my best to flag them and give you warning if you want to skip them, but they are there so if you want to avoid them entirely, you should maybe skip this review. Though it's been a few weeks since this book's release, what have you been doing that you're just getting to this now?
Cover Description: "Kevin Hearne creates the ultimate Atticus O'Sullivan adventure in the grand finale of the New York Times bestselling Iron Druid Chronicles: an epic battle royale against the Norse gods of Asgard.
 Unchained from fate, the Norse gods Loki and Hel are ready to unleash Ragnarok, a.k.a. the Apocalypse, upon the earth. They've made allies on the darker side of many pantheons, and there's a globe-spanning battle brewing that ancient Druid Atticus O'Sullivan will be hard-pressed to survive, much less win.   
Granuaile MacTiernan must join immortals Sun Wukong and Erlang Shen in a fight against the Yama Kings in Taiwan, but she discovers that the stakes are much higher than she thought.
Meanwhile, Archdruid Owen Kennedy must put out both literal and metaphorical fires from Bavaria to Peru to keep the world safe for his apprentices and the future of Druidry.
And Atticus recruits the aid of a tyromancer, an Indian witch, and a trickster god in hopes that they'll give him just enough leverage to both save Gaia and see another sunrise. There is a hound named Oberon who deserves a snack, after all."
By Jacob P. Torres
Find my spoiler-free review of The Poppy War by R.F. Kuang.
Cover Description: "When Rin aced the Keju—the Empire-wide test to find the most talented youth to learn at the Academies—it was a shock to everyone: to the test officials, who couldn't believe a war orphan from Rooster Province could pass without cheating; to Rin's guardians, who believed they'd finally be able to marry her off and further their criminal enterprise; and to Rin herself, who realized she was finally free of the servitude and despair that had made up her daily existence. That she got into Sinegard—the most elite military school in Nikan—was even more surprising.
But surprises aren't always good.
Because being a dark-skinned peasant girl from the south is not an easy thing at Sinegard. Targeted from the outset by rival classmates for her color, poverty, and gender, Rin discovers she possesses a lethal, unearthly power—an aptitude for the nearly-mythical art of shamanism. Exploring the depths of her gift with the help of a seemingly insane teacher and psychoactive substances, Rin learns that gods long thought dead are very much alive—and that mastering control over those powers could mean more than just surviving school.
For while the Nikara Empire is at peace, the Federation of Mugen still lurks across a narrow sea. The militarily advanced Federation occupied Nikan for decades after the First Poppy War, and only barely lost the continent in the Second. And while most of the people are complacent to go about their lives, a few are aware that a Third Poppy War is just a spark away . . .
Rin's shamanic powers may be the only way to save her people. But as she finds out more about the god that has chosen her, the vengeful Phoenix, she fears that winning the war may cost her humanity . . . and that it may already be too late."
By Brianne Reeves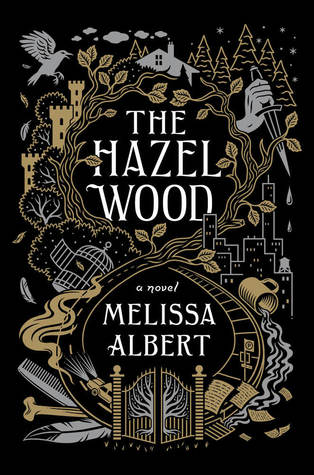 Elevator Pitches:
| | |
| --- | --- |
| Weave a Circle Round by Kari Maaren | The Hazel Wood by Melissa Albert |
| When Freddy gets new next-door neighbors who are loud, obnoxious, and maybe a bit magical, she and her siblings are sent on a wild adventure to keep the balance between chaos and order in the universe. Their adventures span time and space and leave them tampering with the gods and with the nature of reality itself. | Alice's grandma was a cult classics story writer swathed in mystery. But Alice and her mother never talked about her. They only knew they were very, very unlucky. After Alice's mother disappears, Alice is set on a wild adventure leading back to her grandmother's estate, the Hazel Wood. Her past is inescapable and things are more fairytale-like by the minute. |
Highlights:
Weave a Circle Round: The best part of this story is the way it captures family conflict and its use of circular and parallel story structures. Freddy's adventures have eerie echoes of one another that eventually lead to some interesting conclusions. Maaren uses these echoes to engage Freddy with her own problem-solving skills and sense of strength. It's through that growth that Freddy can embrace her family and resolve the conflicts between chaos and order.
The Hazel Wood: The Hazel Wood has some wonderfully dark fairytale moments. Albert is clearly going for more of a Grimm's fairytale world than a Disney princess world and has some moments where she truly succeeds. Alice's story embraces a kind of occult wild goose chase that I found incredibly appealing. Bonus points: the romance subplot is not actually a romance subplot.
Downfalls:
Weave a Circle Round: Weave a Circle Round would have benefitted from some clearer plot. Its circular elements have very high points, but also can serve to distract from what Maaren is really getting at with some of her themes. They can be confusing and occasionally leave the reader with a sense of having missed something.
The Hazel Wood: Alice needed more character development. She doesn't really try to understand others around her and gets very angry, which has its place, but Albert doesn't really use that to its best advantage. Additionally, some of the occult and mystery elements waiver in the first half of the book.
If you must read one… I'd probably say read The Hazel Wood, but with the caveat that younger audiences will enjoy Weave a Circle Round more. The Hazel Wood is very interesting YA, but Weave a Circle Round is more approachable and traditional adventure fantasy. Personally, I enjoyed the darkness in The Hazel Wood more, even if it could have used some work.
I'd probably say read The Hazel Wood, but with the caveat that younger audiences will enjoy Weave a Circle Round more. The Hazel Wood is very interesting YA, but Weave a Circle Round is more approachable and traditional adventure fantasy. Personally, I enjoyed the darkness in The Hazel Wood more, even if it could have used some work.
By Jacob P. Torres
Find my spoiler-free review of The Reluctant Queen, Sarah Beth Durst's sequel to  her 2016 The Queen of Blood.
Cover Description: "In The Queen of Blood, Daleina used her strength and skill to survive the malevolent nature spirits of Renthia and claim the crown. But now she is hiding a terrible secret: she is dying. If she leaves the world before a new heir is ready, the spirits that inhabit her realm will once again run wild, destroying her cities and slaughtering her people.
Naelin has the power necessary to become an heir, but she couldn't be further removed from the Queen. Her world is her two children, her husband, and her remote village tucked deep in the forest. But when Ven, the Queen's champion, passes through her village, Naelin's ambitious husband tells him of his wife's ability to control spirits—magic that Naelin fervently denies. She knows embracing her power will bring death and separation from those she loves."
One of our favorite things at LTB is talking about books. On occasion, we do that face-to-face. If you missed it last week, you can still watch and participate with us while we talk about Children of Blood and Bone by Tomi Adeyemi. We're talking character development, story development, grand themes of family and community, and of course TEA! Feel free to comment below with your thoughts on the book so you can join in on our discussions!