Fantasy
By Brianne Reeves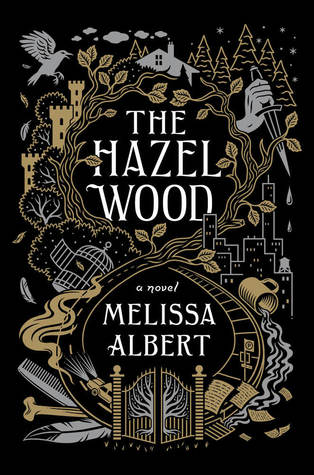 Elevator Pitches:
| | |
| --- | --- |
| Weave a Circle Round by Kari Maaren | The Hazel Wood by Melissa Albert |
| When Freddy gets new next-door neighbors who are loud, obnoxious, and maybe a bit magical, she and her siblings are sent on a wild adventure to keep the balance between chaos and order in the universe. Their adventures span time and space and leave them tampering with the gods and with the nature of reality itself. | Alice's grandma was a cult classics story writer swathed in mystery. But Alice and her mother never talked about her. They only knew they were very, very unlucky. After Alice's mother disappears, Alice is set on a wild adventure leading back to her grandmother's estate, the Hazel Wood. Her past is inescapable and things are more fairytale-like by the minute. |
Highlights:
Weave a Circle Round: The best part of this story is the way it captures family conflict and its use of circular and parallel story structures. Freddy's adventures have eerie echoes of one another that eventually lead to some interesting conclusions. Maaren uses these echoes to engage Freddy with her own problem-solving skills and sense of strength. It's through that growth that Freddy can embrace her family and resolve the conflicts between chaos and order.
The Hazel Wood: The Hazel Wood has some wonderfully dark fairytale moments. Albert is clearly going for more of a Grimm's fairytale world than a Disney princess world and has some moments where she truly succeeds. Alice's story embraces a kind of occult wild goose chase that I found incredibly appealing. Bonus points: the romance subplot is not actually a romance subplot.
Downfalls:
Weave a Circle Round: Weave a Circle Round would have benefitted from some clearer plot. Its circular elements have very high points, but also can serve to distract from what Maaren is really getting at with some of her themes. They can be confusing and occasionally leave the reader with a sense of having missed something.
The Hazel Wood: Alice needed more character development. She doesn't really try to understand others around her and gets very angry, which has its place, but Albert doesn't really use that to its best advantage. Additionally, some of the occult and mystery elements waiver in the first half of the book.
If you must read one… I'd probably say read The Hazel Wood, but with the caveat that younger audiences will enjoy Weave a Circle Round more. The Hazel Wood is very interesting YA, but Weave a Circle Round is more approachable and traditional adventure fantasy. Personally, I enjoyed the darkness in The Hazel Wood more, even if it could have used some work.
I'd probably say read The Hazel Wood, but with the caveat that younger audiences will enjoy Weave a Circle Round more. The Hazel Wood is very interesting YA, but Weave a Circle Round is more approachable and traditional adventure fantasy. Personally, I enjoyed the darkness in The Hazel Wood more, even if it could have used some work.
By Jacob P. Torres
Find my spoiler-free review of The Reluctant Queen, Sarah Beth Durst's sequel to  her 2016 The Queen of Blood.
Cover Description: "In The Queen of Blood, Daleina used her strength and skill to survive the malevolent nature spirits of Renthia and claim the crown. But now she is hiding a terrible secret: she is dying. If she leaves the world before a new heir is ready, the spirits that inhabit her realm will once again run wild, destroying her cities and slaughtering her people.
Naelin has the power necessary to become an heir, but she couldn't be further removed from the Queen. Her world is her two children, her husband, and her remote village tucked deep in the forest. But when Ven, the Queen's champion, passes through her village, Naelin's ambitious husband tells him of his wife's ability to control spirits—magic that Naelin fervently denies. She knows embracing her power will bring death and separation from those she loves."
One of our favorite things at LTB is talking about books. On occasion, we do that face-to-face. If you missed it last week, you can still watch and participate with us while we talk about Children of Blood and Bone by Tomi Adeyemi. We're talking character development, story development, grand themes of family and community, and of course TEA! Feel free to comment below with your thoughts on the book so you can join in on our discussions!
By Jacob P. Torres
Spoilers abound in this review of Kelly Robson's Gods, Monsters, and the Lucky Peach.
Cover Description: "Discover a shifting history of adventure as humanity clashes over whether to repair their ruined planet or luxuriate in a less tainted past.
In 2267, Earth has just begun to recover from worldwide ecological disasters. Minh is part of the generation that first moved back up to the surface of the Earth from the underground hells, to reclaim humanity's ancestral habitat. She's spent her entire life restoring river ecosystems, but lately the kind of long-term restoration projects Minh works on have been stalled due to the invention of time travel. When she gets the opportunity take a team to 2000 BC to survey the Tigris and Euphrates rivers, she jumps at the chance to uncover the secrets of the shadowy think tank that controls time travel technology."
This blog has been long in need of a revamp. Doing things solo can only get you so far and I've been fortunate enough in life to have friends who share my love of books and who, more specifically, love science fiction and fantasy. So, the TL;DR of this post is: I have a partner now and the site is revamping! <queue applause>
Who is this new dude?
Jacob Torres and I have been friends for almost a decade. We've been through ups and downs and have many things in common, but one of the biggest highlights of our friendship has been our shared love of all things geeky and most things bookish. I'm so glad to welcome him. But, I'll let him introduce himself.
Meet Jacob!
Hi, folks of the internet! Like Bree said, I'm Jacob and I have a lifelong love of all things SciFi, Fantasy, and in between. Be it Movies, TV, Games (Video and Board), or most of all books. I'm happy Bree and I have decided to start doing this together so I can have an outlet for some of the many thoughts I have on the genre. I'm also a big tea nut. Hence this new branding is a match made in heaven. You can find more about me if you need more in our refurbished "Who Are We" section. Now back to Bree!
What are we going to see now?
First and foremost, you'll see that the name of the blog has changed. About three years ago, Jacob and I started joking that we'd have a tea and bookshop filled with cats as a retirement plan. That plan is still underway, but we decided a while ago to call it "Low Tea Books" — because who needs classy when you can just have tea, cats, and books, right? We've kept the name and started early with this blog.
I won't mince words; I wasn't a fan of Everfair. I wanted to be, but wasn't.
I got my copy in the mail and was so excited. I was ready to drop everything and start reading. I often have this feeling, but was spurred on by the promise of something truly spectacular and very rarely seen in western publishing. The idea of a well executed literary fantasy set in a steampunk version of Congo was like a big piece of cake staring me down. I may have actually squealed a bit.
I want to be very clear when talking about this, because for as much as I have my criticisms, Shawl is very clearly good at her craft. She's eloquent and considered. Even having disliked the book, I came away with a positive impression of hers. I would chalk my struggles up to some of the construction elements rather than saying that her writing isn't worth the read. You should pick it up and give her a try, at the very least, read some of her short work.
The story itself follows a group of missionaries and refugees living in a section of the Congo set aside to become a land called Everfair. One part safe have, one part socialist republic, the book follows a family from Britain that is trying to lead Everfair in their vision, occasionally with the help of the black population, and, more often, without the input or significant leadership of the black population. The family deals with death, abandonment, interracial marriage, and sexual orientation all the while.
My problems with the story were compounding.
The story format jumps between characters and timelines. So, you can go from following one character in 1810 to another totally different character in 1823 all in a matter of four or five pages. For me, this was confusing and left the story without a cohesive feel.
The plot was meandering and unfocused. Rather than having a clear end-point, it paused every few pages to talk about tangents or give unnecessary context. This was all without really adding to an overarching arc that would have given that cohesion the story desperately needed.
The characters were tough for me. They could have been very interesting, but not enough time ever seemed to be spent on them. We'd stop in on them every once in a while. But in the mean time, there were so many other characters to visit and so many other shifts in timelines and ages that keeping track was a challenge.
The story is clearly well researched and Shawl clearly spent a good deal of time thinking it through. Her writing is very atmospheric, but I didn't find the style to be cohesive enough to compensate for the meandering plot. It was a promising story, but didn't deliver for me. I'll have to check in with Shawl's next work instead.