Short Stories
Mary Robinette Kowal's Forest of Memory is a new Tor.com novella that (according to my .pdf reader) is about 50 pages. It also happens to be great to read while you soak your feet (which may or may not be how I read it). It chronicles the mysterious and unconfirmed week of a young woman who had gone missing.
The story is told from a first person perspective. The narrator, Katya, is a young woman who deals in antiquities, artifacts from previous years that show their wear. She goes up to look at a fairly rare find, a manual typewriter and dictionary, and is waylaid on her way home by a stranger who appears to be shooting—poaching? meddling with?— deer in the forest. She almost runs into the deer, but when the stranger notices her, he kidnaps her.
The story is fun for a number of reasons. The narrator is unreliable; it's filled with intrigue; and you find yourself just wanting to know what in the world is going on.
It's set in a future where people are constantly in touch with one another. People live stream everything. The narrator is particularly well known for this, because the authenticity and story that goes along with the items is as valuable, if not more, than the item itself. The very idea that someone could go missing and show up on the other side of the country without anyone knowing is basically unfathomable.
This brings into question a lot of different topics, like whether you can count on an individual's memory, how interconnected we are, whether you can really have something be valid and authentic without "proof." Kowal takes an, at times, round about way of talking about these issues, but the overall impact is no less effective.
The story is suspenseful and entertaining. There are moments where it can be slow, but this is often a good change of pace from the more tense moments of the book. The narrator is likeable, if unbelievable.
This was a pretty perfect evening-in book. Kowal managed to make an interesting world with a captivating plot that leaves you just wanting more. Better yet, she did it all in a story you can read in a sitting.
A big thanks to Tor.com for providing me with a copy of Forest of Memories in exchange for an honest review.
Hannu Rajaniemi's new short story collection, Hannu Rajaniemi: Collected Fiction, is one of the books you ought to be looking out for this year. Rajaniemi's novels are known for their complex storylines, interesting characters, and vastly detailed worlds.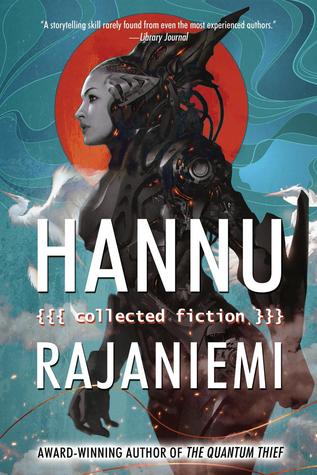 It's really difficult to explain all of the great things that occur in Hannu Rajaniemi's stories. Instead, I'm going to highlight a few specific stories I really enjoyed and then tell you what I wish had happened.
The Server and the Dragon
This was one of the first stories in the collection that really grabbed me. It's reminiscent of Rajaniemi's novels. It follows a computer server made to comply with other's wishes. The server is lonely and develops a world, only to meet a (seemingly) companionable dragon. The dragon convinces the server to go along with it's plans and, then, reveals a darker side.
This story is part scifi part fairytale in space. It's elegant and does a great job of humanizing a computer. The story is great at packing a punch in a fairly small space. Like with lots of Rajaniemi's other works, the broader universe isn't really expanded upon. Though this can be confusing, it's also a bit refreshing. You can tell it's well thought out and internally consistent, and that Rajaniemi knows you'll follow without hand-holding.
Tyche and the Ants
A young girl was sent away for her own protection. She's being cared for by a computer that sees to all of her needs, has a fairly constant idea of where she is, and possesses a bit of a domineering streak. Tyche, the girl, only really gets respite in the mysterious creatures that live outside her home. Whether they are benevolent or malicious, you can't really say. It's a story of trust, parenting, and self-determination.
Elegy for a Young Elk
This was one of the stories I really wish there had been a full novel for. It captures a lot of the charming and intriguing character building that Rajaniemi is fantastic at. Elegy  talks about the relationship between lovers, parents, and self. It deals with depression and substance abuse, all in a fantastic speculative setting.
In addition to the great stories, the collection features a number of recurring themes like individualism, parenting, and the relationship between man and computer. I only wish there had been a theme unifying the stories together.
Overall, 4/5