By Jacob P. Torres
Buckle up I have some words. To say that I am disgusted by the amount of offensive nonsense going on in America right now is an understatement so massive it has its own gravity. And while this isn't the forum to discuss all the many things that are keeping me up at night, this is the forum to discuss Star Wars. As was pointed out in the excellent article on SyFy by the same title, Star Wars has a White Male Fandom Problem. I'd put off making many comments about The Last Jedi or these basement-dwelling nutters because I've got more significant things to spend my moral outrage on, but ultimately, I was reminded recently that failing to speak out against racism, against misogyny, against intolerance, any time you see it is tacitly supporting that sentiment, especially if you're born into a position of relative privilege that being white and male affords you. So, at the risk of having my twitter feed flooded with a bunch of sexist, racist manbabies butthurt that the movie they "love" no longer reflects the white-washed worldview that dominates their dark and empty skulls, here we go.
First let's define the problem.
Starting with the arrival of the Force Awakens trailer back in the summer of 2015, the joys of social media immediately cast light on a small, dark corner of the Star Wars fanbase. This group was immediately mad that there was a black stormtrooper. Was mad that the trailer focused so much on a female character. Was mad that Luke, and Leia, and Han were not featured more prominently. Almost immediately there was a call to boycott The Force Awakens. These addled-brained numpties actually think that their boycott of a movie that made 2 billion globally was a rousing success, costing Disney upwards of 4.2 million dollars.  The world reacted to the new characters, the new direction and the new Lucasfilm with overwhelming support and love. But like a particularly robust strain of colon cancer, this dark little bastion of insanity persisted.
In less than a year, Daisy Ridley was harassed off Instagram for expressing an opinion, how dare she? While most articles at the time covered her leaving social media as a result of that one post, it should be noted that she faced heaps of scorn, ridicule, threats, and misogyny for months, and this was likely the last straw rather than the whole story. And when the trailer for Rogue One would come out in 2016, the sick, little mouth-breathers got riled up again, pushing once more for another boycott of the franchise they love. Again, it was super-effective, mostly at being an abject failure. Also, they've consistently illustrated a total inability to understand the movie industry, if in their pearl-grabbing outrage they'd actually been successful and caused these films to fail completely, the industry would stop making them, they wouldn't give into their demands. They'd shrug their shoulders and move on. But like the force, delusions run strong.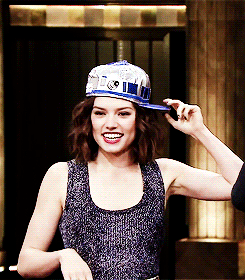 The hollow-minded troglodytes would be back, and if not in greater numbers then with louder voices, when the Last Jedi came out. Rose was a Mary Sue, and worse for being a minority. How dare Holdo be right and Poe be wrong? How dare they do that to "MY" Luke Skywalker? Oh, the horror! Oh, the rage. Angry "fans" who had already paid to see the movie claimed to have killed its earnings as they flooded the "fan" review sites of Rotten Tomatoes and MetaCritic with bile-fueled, hateful "critiques." They'll routinely claim that their "noble" efforts have worked, as The Last Jedi made less money than The Force Awakens. Conviently ignoring the fact that sequels almost always make less money, and The Last Jedi is almost perfectly in line with the drop-offs between Episodes I and II and Episodes IV and V.
Kellymarie Tran who plays Rose Tice was a delight on screen, and when out stumping for the movie exhibited such an obvious joy at being part of the Star Wars franchise that only a sociopath wouldn't smile. The way she was harassed off the internet is vile, twisted, and despicable. After months of harassment, racism and threats she finally left social media, and Star Wars fans are poorer for it. Celebrities and real fans have rallied around Tran, but the damage, as they say, has already been done.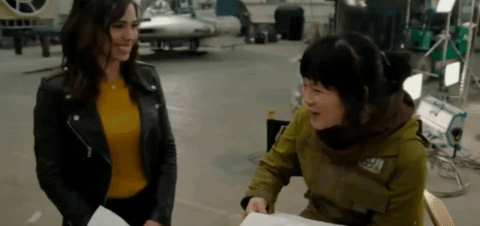 Finally, we come to the events of the last few weeks. Solo: A Star Wars Story is released to, for a Star Wars movie, an underwhelming opening weekend. Again, this bunch of jerkwads with their emotional depth of a Cro-Magnon, claimed a success. Maybe now review sites and bloggers wondered, that Lucasfilm would give in to these verbal abusers and do what they wanted, "save" Star Wars and fire Kathleen Kennedy. Leather-faced pissjars, the lot. And now in the last couple of days a fan movement has supposedly raised millions (in fun, totally real pledges with no requirement to actually provide money, or real credentials to be contacted at) to remake episode VIII and have started their own rebellion.
See below, the Idiot Rebellion Tweet
Much of the problem about these assclowns is how the media, bloggers, and social media has given them more of a voice than they actually have. Conservative estimates number this lot at 50,000 sad, sad puppies, more generous estimates max them out between 70,000 and 100,000 knuckled-brained plums. Want an easy short hand for how much this cost Disney in ticket sales? Add a zero. Movie tickets average at about 10 dollars. At the most generous estimate, they cost Solo or The Last Jedi or or Rogue One or The Force Awakens one million dollars each. As a refresher, those movies made: Solo, 368 million worldwide; The Last Jedi, 1.3 billion worldwide; Rogue One, 1.05 billion worldwide; and The Force Awakens, 2.06 billion worldwide. To say that in comparison Solo: A Star Wars Story is a failure is fair, but to give any credit to the "fan" movement against it is ludicrous. At worst, these degenerate cockwombles cost Solo two-tenths of one percent of earnings. That's not an impact, it's a rounding error. For The Last Jedi they fare even worse. Seven-tenths of one-tenth of one percent. Lucasfilm probably makes more money off of Last Jedi Underroos than they "cost" Lucasfilm from their impotent rage.
Below: A good thread on Why the Solo Boycott Failed
And yet. AND YET. This Solo performance has led to endless speculation that these barely literate thunder nuggets have somehow done the impossible. Shut down the great Disney/Lucasfilm empire, ruined the future of more Star Wars Stories movies and put Kathleen Kennedy's job in peril. You want to know why Solo failed to meet Disney's expectations? It didn't. To me it's obvious that they'd already written off this movie. It was inexplicably moved to May where it would have to compete with all the summer blockbusters rather than keeping it in December, a generally barren month where Star Wars can easily dominate the box office. Marketing for this movie was barely existent, the first trailer only appeared in late February, three months before the release of the film. Even the merchandise came out to lackluster fanfare compared to the massive Force Friday sales for all the modern era Star Wars. It even had to compete with new The Last Jedi merchandise that was hitting the shelves at the same time. Disney also expressly made the decision to market Avengers: Infinity War in favor of Solo.
Look, Sir! Rumors and idiot speculation!
But all this speculation about the future of Star Wars? It's speculation. JUST speculation. Rumors and the wishful, masturbatory dreams of trolls haunted by their own insignificance. Any of it could be true. And maybe I'll marry into the British royal family. But until I hear something from Lucasfilm itself, I'm going to assume that Kennedy and Star Wars are going to continue going strong. Lucasfilm survived Jar-Jar Binks, it's not ever going to be taken down by a good movie that underperformed. And I would be shocked if Lucasfilm and Disney got rid of the woman that has already earned them more revenue than they spent on acquiring Lucasfilm in the first place. But hey, she's a female executive, and sometimes no amount of competence will let them keep their jobs, but I expect better of Disney.
So that's defining the problem. A bunch of jumped up shit-weasels are belligerent on social media about the uncomfortable ball-fondling their childhood memories got and the media, largely will not shut up about them. The media is helping these pigeons of mediocrity get a platform to spread their bile, just as much as the Russians helped a hamster-headed tangerine get elected to the oval office. In the Venn-Diagram of terrible white-folk on the internet, there is a lot of overlap between the circle of "Star Wars Fans" we've been discussing and people who voted for Trump, the idiot incels who think any woman they smile at should swoon into their greasy, fat fingered hands, and the sad puppies who tried, and failed, to ruin the Hugo Awards. They might just be a single circle.
My Personal Appeal.
I am a huge fan of Star Wars, if that wasn't unequivocally clear from the first 1500 words of this post. I've literally read every book ever written for Star Wars, a lot are kind of terrible. I own collectibles and Legos. I've owned shirts and hats and pins and pens. I have some of those Funko Pop Star Wars characters despite how ludicrous those things look. All those old books, I've loved them. And this is not a contradictory statement, I have loved the new Star Wars films and TV shows too.
In school I was an honor roll student, a complete and total nerd, and to the people at school, very other. I got the reaction to that that you'd largely expect, lots of bullying and not very many friends. I don't look back on any of those years with an overabundance of fondness. To this day I struggle with confidence and self-worth and even doing something like writing on this blog can be nerve-wracking and fill me with doubt. I had it worse than some a lot better than others, but my refuge was things like Star Wars. Among other fans of Star Wars and other nerd loves, I felt accepted and found a great sense of both community and belonging. Something almost wholly absent in other aspects of my life outside my immediate family.
These bird-brained cretins that have been crowing about Star Wars infuriate me because they're behaving exactly like the people that pushed me to the fringes when I was younger. As I suspect some of them were. I want fandom to be inclusive not just because it's morally right, but because I want new fans to find that same sense of community and belonging as I did. Something that social media should be making easier for us and not harder. I don't view the inclusion or prominence of new characters as diminishing this franchise but making it stronger. Almost all of cinema has asked young girls or minority children to find their heroes in the white male action stars on our screens. If generations of young girls can find heroes in Luke Skywalker or Han Solo, then young boys should be able to find their heroes in Rey and Jyn Erso. The part of my childhood that thought Leia was just as cool as Luke already loves the heroes that Rey and Jyn are. How broken does your empathy for other people have to be if you can only find inspiration in people and characters that match your gender and race? And to be honest, I don't understand why you don't already relate more strongly to these minority and female heroes, like I do. The muscle-bound charmers, the suave hotshots, what cinema has told us for so long that a hero looks like? That was never me. That was probably never them. If nothing else, I could always admire how female and minority characters triumphed despite the "common men" around them. I may not ever have experienced the discrimination and sexism that minorities and females have to deal with on a daily, unending basis, but I can definitely empathize. I can empathize with being considered other, with being told to be not who I am but the more toxic picture of masculinity and callousness that people inexplicably prefer. That's why I have no patience with their common complaints. With the repugnant narrative they'd preferred to have seen.
Complaints like wut?
Jyn and Rey and Rose are Mary Sues. Fuck you and fuck that phrase. Mary Sues aren't a thing. They just aren't. This mold-covered subset of humanity's least likely to procreate has slapped this phrase about so often that you can't visit a movie review site without being subjected to it like you're living in the London Blitz. They'd have you believe that this phrase has a specific meaning, that a Mary Sue is a character that's too powerful, or too plot central, or too special, or too strong, or too charming, or too unique. What they always leave off is the last part of that definition, the one that lurks in their minds eye like a symphony of sad trombones, "For a Girl." Because let's face it. It's all in the name. Not Mary Steve (because honestly, with this crowd they'd never name a category after a girl if it could apply to a man). Mary Sue, female name for female characters they object to. These people are so stymied by the concept of a female hero that it shutters their brains like a faulty computer. Too powerful for a girl, because to them girls are not powerful, they're damsels to be rescued, their side-pieces to a man's story. Too special for a girl, because girls are not special, because to them special girls can't exist, because if they're special that somehow diminishes them, because a girl's place is at home baking and cleaning, not living their dreams. Too unique for a girl, because to them girls aren't unique, they're interchangeable, girls are cogs, any of them will do for pleasing a man's desires. Too strong for a girl, because girls are not strong, because to them strong girls diminish them because they are not strong men, if the other men in their life are stronger than them, better than them, more successful than them, well at least they're still better than a girl, right? It's a profoundly toxic worldview and a extremely sexist complaint, and calling it anything else, to me, has never been acceptable.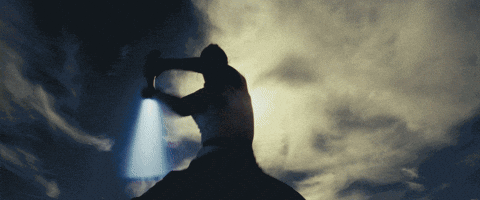 Including these minority and female characters is some kind of plot. SJWs or Liberals or the green lizard peoples that secretly run the British monarchy. It doesn't matter who is running the plot because it's abjectly idiotic. Honestly, if you turds think that SJWs are so powerful we have influence at the highest levels of Marvel and Lucasfilm and the world that this is the world we'd make? With a marmalade fucknugget in the oval office? That we'd make a Star Wars film that despite featuring Rey, we'd only let her speak 30% of the time? That all we would manage is one minority and one female as a lead? That we'd have only had white males as directors for these films (No matter how well they've done)? I don't know if I should be shocked that you're this stupid or insulted that you think this would be the limit of our imagination.
Star Wars isn't the place for politics, it's supposed to be fun. Bitches have you even watched the first six films? The first three have clear analogues as a protest to the Viet Nam war and the Cold War's unending hard-on for bigger and better super-weapons. The prequels are a clear attack on the pitfalls of corporate greed, a ham-fisted commentary on the W. Bush years, and a warning about complacency and arrogance within well-meaning groups of people. It ties into a larger complaint from these crab-ridden reprobates, that speculative fiction and movies should be "fun" and not challenge their "beliefs" or "society." If you think that, you must've been mainlining Larry Correia books like they're choice god damn cocaine. This is not a new trend in fiction. Hell, it's not even from the last century. Mary Shelly's Frankenstein may be the first speculative fiction book and its riddled with critiques and the whole damn thing is about the penance for hubris and our responsibility to our creations. Speculative film and fiction is laden with luminaries that push us on the issue of the day: Mark Twain, Steven Spielberg, Ray Bradbury, Ursula K. LeGuin, and George Orwell to name a shockingly short list.
Those Casino Scenes weren't Necessary. Um, yes. Yes, they were. They were sleight of hand. They were a trick and one that you fell for. They were there to disguise that Poe Dameron was being an idiot, that this plan was Idiotic++, and this kind of untampered machismo that runs rampant like King Kong on a roid rage in other films, isn't just toxic, it's wrong. Actions have consequences and for Poe Dameron his debts against rational thinking came due. You think this scene is unnecessary because you think Poe should've been right.
That Scene with General Hux at the beginning where Poe makes fun of him is dumb. Lol. Y'all don't even realize that Hux has become a parody of you. That's how Riann Johnson sees your toxic hate-fueled bullshit. You're jackbooted thugs, with all the privilege and opportunity in the world and you're so bad at being a fraction of what you could be that you're comic relief. Even towards the end, when Hux had a chance to just shoot an unconscious Kylo Ren and be the Supreme Leader he thought he was, that he should be, he was such an indecisive, cowardly little sack of failed ambitions he couldn't wing it. Again, just like these tiny little shits that think being rude on the internet makes them a big person.
Just Everything about Holdo. It bothers me that in a universe where fish people can be admirals, that a two foot goblin can be the head of the Jedi Order, and the aliens from E.T. have a seat on the galactic senate, that you don't have the imagination to think a woman can be an Admiral. Is the only reason Ackbar is okay because he's a he? Probably.
Here is some Holdo Idiocy – Totally not a fake account, bro. Also, you're a fan of Wonder Woman but don't think someone in a dress can be a hero? Um…
Holdo is a great lesson in challenging your god damn bias. And the behavior from these leperous flesh-bags here is a gigantic insult to the women who serve proudly in the American military these people "love" so much. And it's one that works so well in-movie because it plays directly off of the movie-going populace's inherent sexism. No one would've complained if a male admiral had kept his plan secret, chain-of-command right? That's how armies work. But apparently a freshly-demoted junior officer whose feelings were hurt is owed an explanation from a female admiral. That shit wouldn't fly in any standing army on earth. But she's wearing a dress! You cry. And? So, what? Maybe that's all she had, they just evacuated a planet. Maybe her luggage got lost. Maybe she was coming back from the fish space opera. MAYBE SHE JUST LIKES WEARING DRESSES. We had a general in the revolutionary war that made his soldiers fight without ammunition, I think all of his soldiers would've happier following his orders if the only thing he did they objected to was wearing a dress. If you think your superman shirt means you can stop bullets by standing in front of them, I have some global conflicts I'd like you to visit. Diminishing anyone for they're outward appearance whether it's the color of their hair or the cut of their dress means you believe their character and actions are secondary to their beauty. It's a sad, narrow way of thinking and something women are all too familiar with.
Rey should've been a Skywalker! Or a Kenobi! I can admit that after 6 films it would make a narrative sense to have Rey be a Skywalker. The first six films were unquestionably about Skywalkers. But you'd really rather your hero have been a Space-Dad who sold his daughter off to some Junkers on a sand planet so he could go off and have adventures? And you're ignoring a big part of the appeal of Luke from episode IV, back then he was nobody. Just a kid living a life he was fairly bored with. Working on a farm and wishing for adventure. We related to that! We still do. It's a huge, popular narrative element and is part of what makes Hero's Journey stories so evocative and meaningful. Who hasn't had days or years where they wish they'd been off on adventures? Rey being a nobody lets us all, ALL OF US, have that again. We don't have to be the children of royalty to be the hero in our own stories, to have adventures, to live great and important lives. I'll admit that the narrative setup by J.J. Abrahms hinted heavily at some kind of connection, familial or otherwise, and that Rian Johnson did use that in a way we didn't expect but insisting that the only way someone can be a hero is if they have some special heritage diminishes us all. And it's evocative of pervasive white privilege. Many of these "fans" that are so angry at The Last Jedi have lives so unfulfilled that the only thing they can be proud of is their race and their gender, which is abjectly disgusting. But it's why they want Rey to be special, even as they hate her for her gender, because if she's special it backs up their beliefs that the special people are the ones who get to be heroes. The special people like them. Abrahms may change this, but Rey now gets her self-worth from being her, and not who her parents are, and that's how we should all be.
Disney doesn't care about the fans! You're right and wrong! You're right that they're not going to let the opinion of the internet's poor-man's Gollum have a say in telling us where the story should go. They're not going to make Daisy Ridley traipse around in a metal bikini so you can keep a hard-on long enough to maintain interest in a franchise. Just because you scream on the internet doesn't mean your opinion matters. But Disney does care about the fans. The real fans. Really needle someone who loves the Star Wars books and most will come down to two arcs. Timothy Zahn's series with Grand Admiral Thrawn and Mara Jade and the Stackpole and Sullivan X-Wing series. Disney has proven time and again that the elements that work from those books can have a place in the new Star Wars. Thrawn is back in Star Wars Rebels. We're going to have a new animated series just about resistance X-Wing pilots. In Solo, they used elements from several books including that explanation for the 12 parsecs, the Maw around Kessel, Kessel and Corellia at all, and Han winning the Falcon in a game of cards. All stuff from the books. Disney has had Star Wars Day at its parks for years before they purchased Lucasfilm, they've been going out of their way to accommodate the fans, to show their appreciation for the love we have for Star Wars, and most importantly to bring new fans into Star Wars.
Why Does it Have to Be a Minority? You're just making it that way to appease people! Again, fuck off. Why does a character have to be a white male? Adding inclusivity into a franchise isn't appeasement. It's recognizing the the current status-quo is a fucked-up unbalanced fantasy and deciding that you have the empathy to correct it. But shocker guys, adding one Black dude, an Asian lady, and a Hispanic man doesn't make you inclusive either. Inclusive isn't about one being included at the expense of the other. It isn't about checking off boxes on a checklist. Inclusivity, it's about balance and fairness, and yes, a bit of social justice. Do you honestly think that there would be so many fanfictions featuring minorities and LGBTQA+ folk if they'd been fairly represented in the movies? Or that so many people would imagine what if main character X had been a female? Why does it have to be a minority? Why Doesn't It? I Hate What They Did to Luke Skywalker! They're ruining my childhood! They Made Mark Hamill do this! First, a movie production isn't a slave galley. Mark Hamill did this because he wanted to get paid. He may have not been super excited but a Jedi's got to live, son. And he's mostly come around to Rian Johnson's take on Luke. Second, nobody can ruin your childhood. It happened. It's in the past, with Jar-Jar, and "I hate sand," and the Ewoks. If Rian Johnson has somehow reached back through time and taken stuff from child-you like some weird, temporal based anti-Santa Claus then Stockholm really needs to hand him a couple Nobel Prizes for breaking several laws of physics. Stories, and how we evaluate them, grow and change over time, but that feeling, that love never really goes away.
But let's talk about what they did to Luke Skywalker, shall we? In Episode IV-VI he has his hero's journey. He meets and loses a mentor, he gets a magic treasure, he fights an evil overlord. But as a character, he's kind of a mess, which is a strength not a weakness. In Episode IV, for all his idealism, he's unbelievably arrogant to believe his skill as a bush pilot makes him qualified to fly spaceships in combat. That's like a 16-year-old getting his driver's license and immediately thinking he can win the Indy 500. He's passive in this story too. The only time he drives the plot forward is when he urges Han to rescue Princess Leia. Ben gets him off Alderann. Han gets him off the Death Star. Leia gets them to the rebellion. Luke joins a pilot squadron, but not as a driving force to it, just as one dude out of three dozen. In Episode V he's grown a lot but is still a very flawed dude. As the rebellion is fighting a losing battle he sneaks off to learn to be a Jedi without telling anyone. The squad that he led against the AT-ATs mostly dies. He abandon's his training with Yoda at the first sign that his friends might be in trouble and walks right into a trap. The trap costs him his hand and his friend. But the key here is this. What happened to Han and Leia happened through no influence on Luke's part. He went off to save his friends, but Leia had already saved herself, Han had already been taken, and Lando had already joined the team. Leia had to put herself at risk to save Luke. This was entirely the point Yoda was trying to make, and hello, does this at all feel familiar to Poe Dameron's arc in The Last Jedi? In Episode VI, Luke runs around proclaiming he's a Jedi before he finished his training. His plan to get Han out of Jabba's care makes no sense at all, arguably Leia and Artoo are more influential at getting them out of that mess than Luke was. Yoda declares him a Jedi and sends him off to do the one thing they'd been training him for, confront and kill Vader and the Emperor. Luke makes an inspiring decision in the second Death Star to choose not to fight the Emperor. It's his defining moment, and it's one of pacifism. Luke in this moment is a repudiation of the heroes of the movies of the time. He's not overly masculine or prone to violence. And this facet of him is something most of the Star Wars books that came after that movie missed entirely. Luke never refers to himself as a warrior in the movies, only as a Jedi. He has much more in common with Kenobi's reluctant participation in the prequels than Anakin's grief-fueled need for power. Again, in this movie, take Luke out of the equation in the finale and the Rebels still kill the Emperor, still destroy the Death Star, Luke's story here isn't about him saving the day but learning to save his soul. Luke's flaws make him relatable and memorable and someone we love and aspire to. Nothing about Episode VII and VIII change that.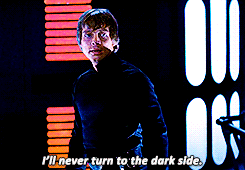 Pacifism and peace are fragile things, and our trust in them is easily broken. It's not a hard line to draw from an optimistic hero to a lonely hermit. Luke has a very human reaction to tragedy, and to guilt. Given that his only two role models, Ben and Yoda, were hermits, it's also not shocking to think that he would see withdrawal as a way to find peace. But his withdrawal also speaks of a personal revelation, that he learned through his failings with Ben Solo that he can't fix everything, and that the galaxy doesn't need him to keep on keeping on. That message is reflected in what he tries to teach Rey about arrogance and pride. But hating Luke in this movie also robs him. Because as much as this story was one of Luke's tragedy it was also about his redemption. His story ended as it began. His hero's journey started when he got a projected message from his sister pleading for hope, it ended with a projected message to his sister, and to all the people in the Resistance, giving them hope. In the final moments of the film he found hope in Rey and in the future again, he gave the Resistance crucial time to escape, and he found, at long last, what he'd been looking for in that island, peace. That one part of the Hero's Journey that Luke never got in Episodes IV-VI, going home.
There's one other thing that hating Luke's role in The Last Jedi ignores, and that's that this is Rey's Hero's Journey, it's not Luke's anymore. One of the chief elements to that narrative structure is losing a mentor, and through that, growing into the hero you're meant to be in the story. Luke is there to propel and support her story. Like he said, he was never going to come out swinging a laser sword and solve all the problems. Pacifism was Luke's response to the Emperor, and in his illusory fight with Ben Solo it was his answer there too. Thinking that violence would've been Luke's first answer just illustrates that you never understood who Luke Skywalker is.
BUT MOSTLY
Most of all these pudding-headed misanthropes don't understand what Star Wars is. Whether it's the code of the Jedi or Luke throwing his lightsaber away, anger and violence and hatred are never the solution, Star Wars tells us. They're symptoms of everything that's wrong around us. Most of all Star Wars tries to get us to understand that giving in to fear is a path to all the things that threaten us. Their hero Luke would've never harassed Kelly Marie Tran like this. All the heroes these vainglorious little shits love would despise them and their harassment. From Daisy Ridley and Kelly Marie Tran on Instagram, to Rian Johnson and Chuck Wendig on Twitter, these sexist bigots are showing that they don't love Star Wars, that they never understood it, that the only thing they care about is their twisted little world view where the white man reigns supreme.
Beyond the right or wrong of the shitty behavior these two-penny clowns get up to on the internet, this kind of harassment is going to be something people have in the back of their head when they get asked to write or contribute or act for Star Wars. Why should anyone want to sign up to a project knowing that they'll be subjected to an unending stream of untempered rage? You want Star Wars to be great? Make sure anyone knows they'll be welcome additions to the movies and books you claim to love.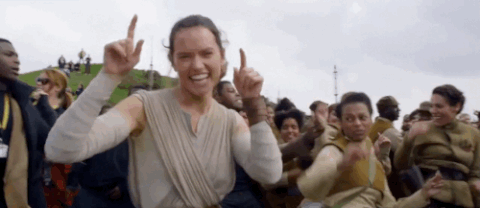 The first step in stopping this shit is to change how we discuss these chicken-shit piss-ants. Let's stop calling them fans for one.  Lets only refer to them as what they are bigots and misogynists. Let's acknowledge that they have no place, no room, no safe haven in this or any other fandom where content creators are going to accommodate their skeevy, creeper fantasies. Tell them that Star Wars is a place for inclusion, and anyone that would keep someone else out has no place here. Let them know that we will welcome anyone but that doesn't mean that everyone gets to stay, we expect empathy and courtesy and compassion, but we don't have to accept hate and bile. Let's acknowledge that the correct response to this kind of hate isn't to give it an audience, or let an audience be held captive, but give it no light to grow. Let's not embolden it with our silence. You can critique something without threats of violence and racism and sexism. Anyone who can't tell that there's a difference from a guy who disliked a movie but respects the creators and people who tell us that having one new black character is calling for a white genocide, or that having a lady be right somehow weakens being a man. Let's acknowledge that these people have become so obsessive over something they don't own, that they're losing themselves in hate, that maybe their real hero wasn't Luke, but Anakin.
You don't have to love Star Wars, you don't have to love every movie. Or character. Or book. Or toy. But not liking something for being inclusive, for showing us new ways to be heroes, for trying to share that thing with others is unacceptable. I will debate fan theories with you, I'll squee with you over movie scenes or lightsaber fights, or new series. I'll argue over honest complaints that come from a place of calm and rationality. I'll watch a new trailer with you eight times in a row and come with you to opening night. But I'm not going to entertain your bile, or your hate, or your slack-jawed pettiness. I won't tolerate your gatekeeping. Star Wars doesn't belong to any one of us. I'm not going to let you ruin Star Wars for me, and if I could, I wouldn't let you ruin it for anyone else that wants to join us. Let's have the compassion and the empathy to welcome new fans, to celebrate with them, as someone welcomed us. I don't have time for your hate, you stopped being fans a long time ago, we have other things to worry about.